Ding Free = No ATM Surcharges
A surcharge (or convenience fee) is a fee charged by an ATM owner at the time of the transaction and appears on the ATM receipt. A surcharge ranges from $1 to $3, and comes with a warning screen before the ATM transaction is complete. Surcharges are not the same as transaction or account fees, which would appear on your monthly statement - i.e. when you exceed the included transactions of your package account in a month.
Leave ATM surcharges behind you.
We've all been dinged by surcharge fees at an ATM that wasn't our own. But as a member of a credit union, you don't have to rely only on our ATMs to keep from getting dinged ever again. In fact, you're part of one of the largest surcharge-free ATM networks in the country.
Any credit union ATM is your credit union ATM.
Belonging to a national ATM network means you can bank ding free from sea to sea, with access to a national network of surcharge-free ATMs - a network bigger than most banks. Just look for a ding free sign or logo on your ATM, and say goodbye to those pesky surcharge fees.

Get the ding free locator app today.
Available for iPhone, Android, Windows and Blackberry devices, our new ding free® locator app can help you find the nearest surcharge-free ATM - wherever you are.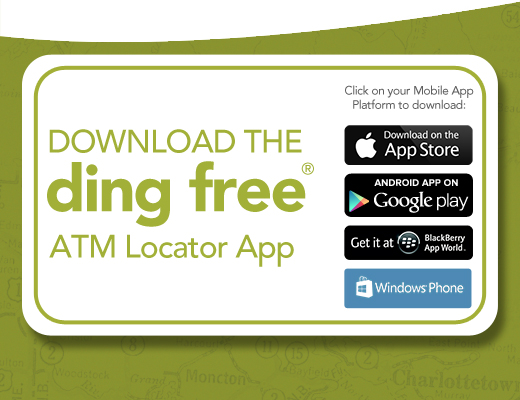 ** Caisses populaires and credit unions in Quebec and Territories excluded. Check the ding free locator app for the nearest ding free ATM.
® ACCULINK is a registered trade-mark owned by Credit Union Central of Canada, used under license.
® THE EXCHANGE is a registered trade-mark of Fiserv Inc., licensed for use in Canada by FICANEX Services Limited Partnership.
® DING FREE & Design are registered trade-marks of Central 1 Credit Union, used under license.
iPhone™ and the App Storesm are trademarks of Apple, Inc.
iPad®, iPod touch® and iTunes® are trademarks of Apple, Inc., registered in the U.S. and other countries.
Android™ and Android Market™ are trademarks of Google, Inc.
The Trademark BlackBerry® and BlackBerry App World™ are owned by Research In Motion Limited and are registered in the United States and may be pending or registered in other countries.
Windows® Phone and Windows Marketplacetm are registered trademarks of Microsoft Corporation in the United States and other countries.